Once I came back to the city myself and Laura of
Laura Hates Gluten
decided to surprise our boyfriends (whose birthday's are a week apart) by making them special desserts, and a really delicious (if I do say so myself) dinner.
Five hours of solid cooking resulted in a rather lovely meal, four full bellies, and a lot of dirty dishes. For my Pip I made the best Pumpkin Pie I have made to date. As a gift for Laura's bf I made
Peanut Butter Pretzel Brownies.
Now, I finally have the time to write up an entry about it!
Starting around 1:30pm, I spent six hours on my feet making dish after dish. It was a lot of work, but it was quite fun thanks to the fact that I spent it with one of my best pals. We listened to great music the whole time, and it was a really beautiful day.
While Laura whipped up a batch of gluten free cupcakes, I began by preparing my own blend of pumpkin pie spice!
Pumpkin Pie Spice:
1 tbsp ground cinnamon
2 tsp ground ginger
1/2 tsp ground cloves
1/2 tsp ground allspice
1/2 tsp freshly grated nutmeg
Blend all spices together. Work out any lumps (specifically from the ginger). I found an empty spice jar, filled it up, used a piece of pretty paper as a label, and voila! My own pumpking pie spice. It was warm and fragrant. Despite the fact that it's starting to feel more and more like summer, my house smelt like autumn.

As far as the actual pie goes, I used a can. I won't lie! The recipe inside the label calls for an egg and evaporated milk. I opted to add a little vanilla as well, and my pumpkin pie spice. I used a store bought graham cracker crust, because hey. I'm a student, and I was pressed for time. I would have liked to have melted some butter to put over the crust and try and mush it back into shape (it cracked in the taxi home), and baked it for a short amount of time to make it crispier, crunchier, and just a whole lot tastier. The graham crumbs soaked up a bit of the pie filling, so it wasn't a noticable part of the pie, the crust along the sides was perfectly crunchy and tasty though.
Yep, there's me!
I followed the baking directions with the can mix, but left it in for an extra ten minutes or so. The centre of the pie was still jiggling and uncooked.
Uncooked, but looking pretty!
While I was whisking up my pie mix, my whisk broke! The handle just broke clean off so i had to hold onto the wire loops for the rest of the day. I think I need to make a wish list of kitchen supplies I need!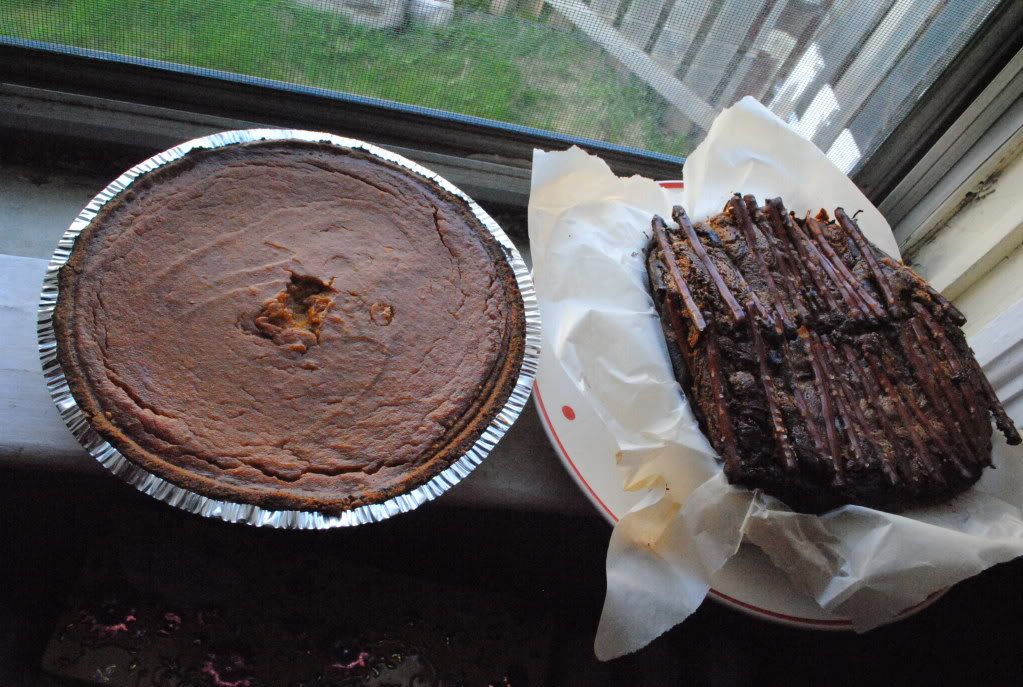 After the pie was in the oven it was time to move on to the
Peanut Butter Prezel Brownies.
I followed the recipe from
Joy the Baker
, who is an inspiration for me. I intend on making many of her recipes in the future, just as I have in the past!
These brownies were an undertaking. Laura's boyfriend loves all kinds of strange and delicious things, so I knew I had to make these for him. I should have practiced first.

The recipe called for six ounces of melted chocolate, which is a lot of work to chop up! Messy, too!
I finished the brownies just as the pie was finishing, which was pretty good timing on my part, I have to admit. I had a couple of problems with the recipe, caused mostly because the pan i had to cook it in was far too small. I didn't have the right size, so I opted for a smaller square pan, instead of a wider cake pan. The cake pan would have been a better choice!
Because the pan was so small I had to let it cook for an extra ten minutes. The very middle of the brownies were molten and ooey gooey grossly not cooked. They rose out of the pan, and there was about two inches of dense, thick chocolate brownie (which was a little dried out thanks to the extra cooking time) and a small layer of marbled peanut butter. If I was going to make them in that pan again (because they were charmingly tall and huge), I should marble the peanut butter throughout the entire brownie mix, not just the top. Having the peanut butter aspect throughout the two inches of huge thick chocolate brownie would have made it so much better. Instead, we ate it with whipped cream to keep our mouths from feeling like a desert.
Also, if I made these again I might make them in a cake pan, so that they would be short, thin brownies. Then, the peanut butter on top would be fine!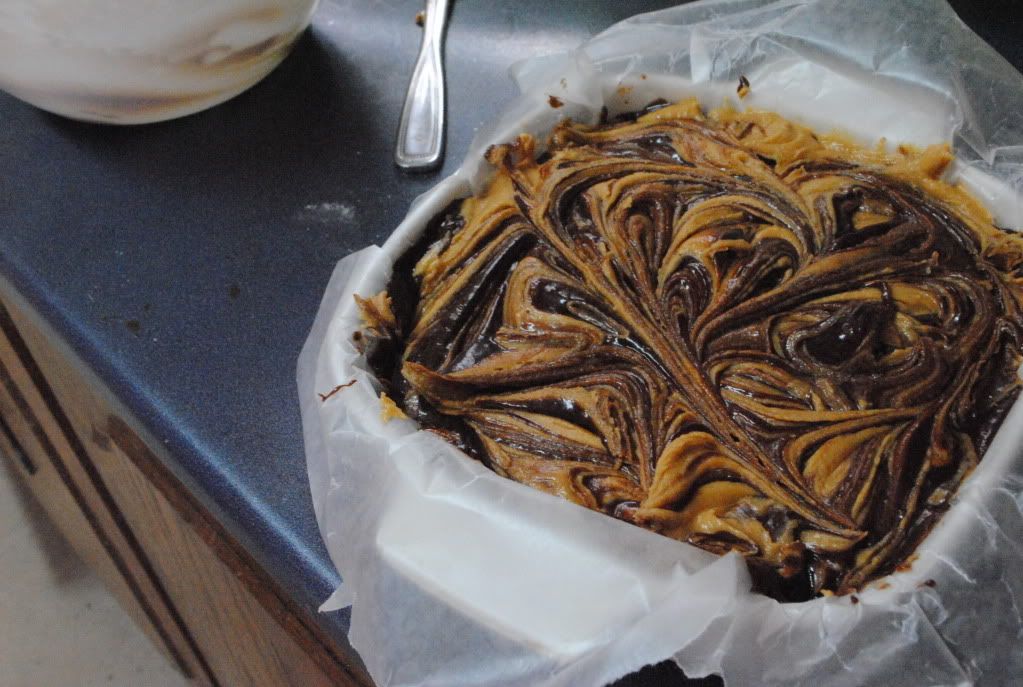 In any case, I
will
be making these again. They were abso-freaking-lutely delicious.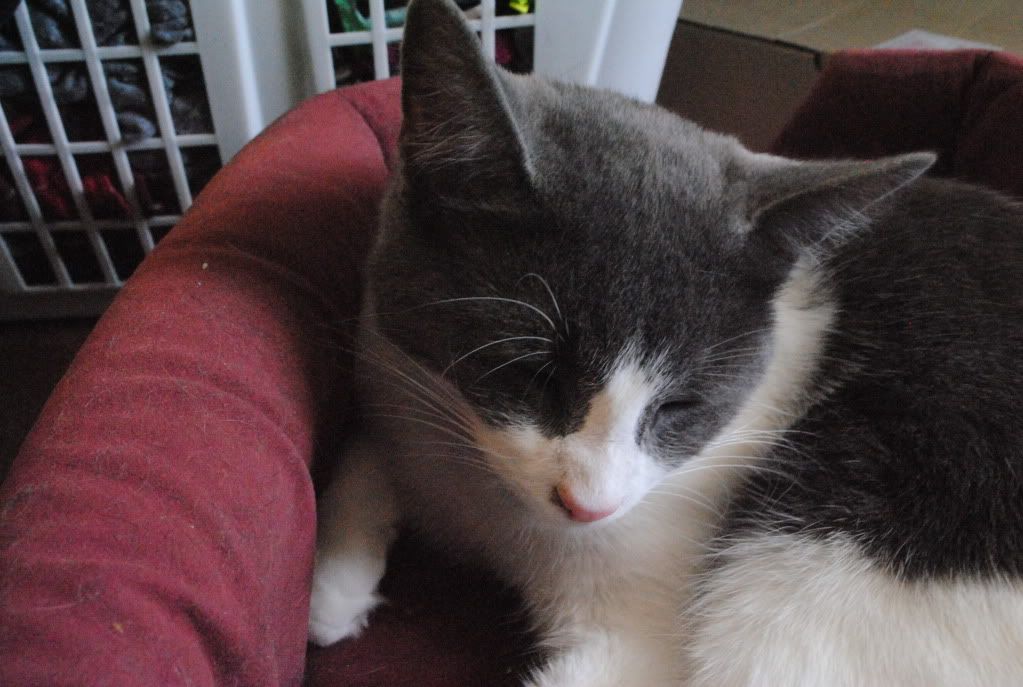 Cowey napped the day away!